ABSTRACT ART
modern art and abstract painting by Sharon Hudson.
Abstract painting and non-objective art allow Hudson to freely explore color, design, and the sensuality of painting and other media. Some of Hudson's abstracts derive from the figure; others use overlaid and juxtaposed patterns in collage and painting; others simply explore the painters toolbox of color, texture, and form. In all cases, bold but balanced compositions define Hudson's modern abstract art.
Colorful abstract art: painting and collage.
Hudson's paintings begin with her love of the physical world, especially the human figure, plants, and everyday objects. Her artistic inspiration comes from modern painting masters like Gauguin, Klimt, Matisse, Degas, and Van Gogh, as well as more abstract arts like modern quiltmaking and stained glass.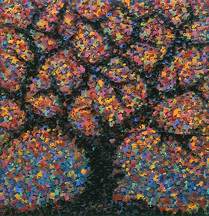 Colorful abstract modern art.
Hudson's abstract art reflects her travels in Asia, Africa, Alaska, Mexico, and the tropics. Her belief is that a true artist is always experimenting, and this must produce a variety of works of art. Growth and change, not repetition, is the essence of art, and modern artists benefit greatly by exposure to many cultures.
Abstract modern art: charcoal drawing.
Hudson has created bold abstract charcoal drawings based on Pacific Northwest Indian totem poles and the powerful Alaskan landscape. They show the influence of both African sculpture and Northwest American Indian art.
Modern abstract landscape art.
In addition to this modern abstract art, this contemporary art gallery also offers realistic and decorative figures, still lifes, portraits, decorative non-objective patterns, and other kinds of art. Bold, sensual, intriguing fine art in painting, collage, pastel, drawing, and mixed media. San Francisco Bay area visual artist Sharon Hudson, Berkeley and Oakland, northern California.

See more contemporary visual art at Sharon Hudson's website:
www.sharonhudson.com.
Oakland, Berkeley, San Francisco Bay Area, East Bay, northern California