ABSTRACT FIGURE PAINTINGS
by Sharon Hudson
Figure paintings by San Francisco Bay area artist Sharon Hudson include abstract figure paintings with bold line and flat color; playful figures embedded in collages of decorative patterns; expressionistic painterly figures in pastel, graphite, and charcoal; realistic figures and portraits; and simple figure drawings.
Playful abstract figure painting.
Hudson has been drawing and painting figures for over 40 years. Hudson's figure paintings begin with her love of the human figure, and starts with live models accompanied by plants and other decorative objects. Hudson's figure paintings celebrate the sensual aspects of both subject and media, and have a frankly decorative intent, using bold color, sensuous shape, line, and pattern to animate strong compositions.
Colorful abstract figure paintings.
Whether attracted by color, form, movement, or expression, Hudson uses media that are swift and sensual, and works quickly to capture the figure. This may complete the figure drawing, or she may work the figure into an expressive, realistic, or abstract painting energized with collage and decorative patterns.
Decorative figure collages.
Hudson's stylistic inspiration comes from masters of sensuality like Gauguin, Klimt, Matisse, Degas, and Van Gogh, as well as related arts like stained glass and contemporary quiltmaking. Her paintings also reflect her travels of the past three decades, and abstract forms from Africa and the Pacific Northwest and decorative elements from around the world have all left imprints on Hudson's figure art.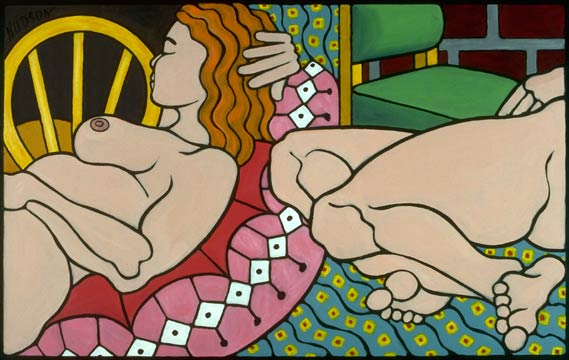 Contemporary abstract figure painting.
In addition to this collection of abstract and decorative figure art, this art gallery also offers realistic figures, abstracts, still lifes, portraits, decorative non-objective patterns, and other kinds of art. Bold, sensual, intriguing fine art in painting, collage, pastel, drawing, and mixed media. San Francisco Bay area visual artist Sharon Hudson, Oakland, northern California.
See more contemporary visual art at Sharon Hudson's website:
www.sharonhudson.com.
Oakland, San Francisco Bay Area, East Bay, northern California
2020