Reliefs and Sculptures
My sculpture includes reliefs in plaster and
fabric, mixed media assemblages, and
some ceramics and stone sculpture (mostly
sold). I have always been fascinated by
relief art, especially Assyrian, Greek, and
Mayan reliefs. I am intrigued by the
physicality, textures, and changing
patterns of light and shade as one moves
around. Mosaics, especially, only come
to life and reveal their striking sensuality
when direct light reflects off their irregular
surfaces; this cannot be seen online.
Please visit my
GALLERY
to see my
paintings and other art in flat media.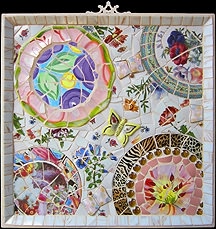 .
Arabesque Series
(to right)


These small low-relief wall plaques
are made of plaster, poured into
temporary molds created by pressing
found objects into oil-based modeling
clay. The plaster is then impregnated
with linseed oil, which is absorbed to a
depth of about 1/8 inch, making a very
strong surface. The castings are then
painted with many layers of oil paint,
rubbed, brushed, and rolled onto the
textured surface. The frames are
custom-made.
More information
Heliotrope (to right)

This green soapstone
sculpture was designed
to take advantage of a
narrow stone with a
flat natural surface on
the back. The veins and
inclusions in the stone
give the sculpture an
interesting character.






Face Vase
(to right)

This pink alabaster
sculpture doubles
as a vase, or even a
candle- or incense-
holder if you wish.
Created after my
most recent trip to
Mexico, the face
reminds me of the
famous Mexican
sacrificial god,
Chac-Mool.



Mask of Persephone

(to right)

This wall-hanging
relief sculpture began
with a plaster-and-
fabric cast made from
the face of a friend of
mine. The cast was
then painted and
decorated, and fastened
to a metal screen, along
with additional items.




Mayan Heads Bookends
(to right)


The mold for these bookends was the clay
model I made for the face of the earlier
sculpture, Heliotrope. I made a plaster cast
from that model and slipcast nine sets of
these bookends. Each set was hand-finished
and glazed differently in several firings.
Each pair is therefore a unique, functional,
ceramic sculpture.

The bookends are weighted with lead, sand,
and plaster, and are heavy enough to
support even the largest books.



ART EXHIBITS
Tectonic Plates
China mosaic
15 x 30

$1300
Tea and Strawberries
China mosaic
27 x 22

$2400
Remodeled
Tile mosaic
22 x 26

$1300
China Garden
China mosaic
18 x 18

$1100
Pulsing Pink
Fabric and plastic
32 x 56

$4000
Foursquare
Mixed media
27 x 27

$1200, framed

Multiverse
Mixed media on masonite
27 x 27

$1000
Assemblage 1
Assembled objects
11 x 14 inside frame

$750
Assemblage 2
Assembled objects
14 x 11 inside frame

$750
Pink Tile Quilt
Oil paint on plaster
20 x 15

SOLD
Sundisk
Oil paint on plaster
16 inches round

$950
Arabesque I
Oil paint on plaster
13 x 13

$750
Arabesque II
Oil paint on plaster
8 x 10

SOLD
Arabesque III
Oil paint on plaster
13 x 16

SOLD
Arabesque IV
Oil paint on plaster
16 x 13

$850
Arabesque V
Oil paint on plaster
16 x 11

$800
Arabesque VI
Oil paint on plaster
17 x 12

$850
Arabesque VII
Oil paint on plaster
10 x 12

$550
Arabesque VIII
Oil paint on plaster
12 x 10

$550
Arabesque IX
Oil paint on plaster
13 x 10

$600
Arabesque X
Oil paint on plaster
13 x 11

$650
Arabesque XI
Oil paint on plaster
12 x 12

SOLD
Heliotrope
Green soapstone
18w x 21h x 7d

$4000
Heliotrope
Side view
Heliotrope
End view
Heliotrope
Back view
Face Vase
Pink alabaster
10w x 10h x 3d

$1000
Mask of Persephone
Plaster and fabric with
mixed media
16 x 22
$500
Mayan Heads Bookends: cobalt
High-fire glazed ceramic, filled with lead,
plaster and sand, with beads and jewelry
6" wide x 7" tall x 3" deep
$350 / set
Mayan Heads Bookends: moss
High-fire glazed ceramic, filled with lead,
plaster and sand, with beads
6" wide x 7" tall x 3" deep
$350 / set
Mayan Heads Bookends: steel
High-fire glazed ceramic, filled with lead,
plaster and sand, with beads
6" wide x 7" tall x 3" deep
$350 / set
Mayan Heads Bookends: bluestone
High-fire glazed ceramic, filled with lead,
plaster and sand, with beads and leather
6" wide x 7" tall x 3" deep
$350 / set
Mayan Heads Bookends: jade
High-fire glazed ceramic, filled with lead,
plaster and sand, with beads
6" wide x 7" tall x 3" deep
$350 / set