See also:
Abstract &
Decorative
Figures


Realistic &
Expressionist
Figures
Playful
Figures

Surreal
Photographic
Figures
Other Figures
This exhibit includes abstract human
figure paintings, drawings, and collages,
and other unique expressions of the figure.
Most play with ambiguous dimensions
and overlaid realities, which merge
with the figures. Other figures are
fragmented and reassembled, vibrating
playfully against their own previous
forms. Some use text to tell stories.

Also included are human figure
paintings based on Buddhist and Hindu
stone relief figures at Borobudur and
Prambanan temples in Indonesia,
and large paintings of Japanese sumo
wrestlers.

Buy this in prints
& other products
;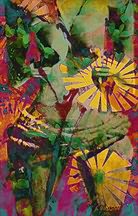 To see more
abstract and
surrealistic
human figures
in photography,
please visit the
PHOTOGRAPHY
GALLERY
,

and click the

"
Mannequins
"
exhibit.
Archival prints
start at $22.
Buy this in prints
& other products
Remember to
send an E-CARD!


Click any image, then click "SEND E-CARD" from the enlargement.

Don't know your recipient's email address? Send the card to yourself and forward it later.
Buy this in prints
& other products
The following six
dramatic paintings
of human facial
expressions have
theatrical inspiration.
These face paintings
express human
emotions such as
amusement, anger,
despair, suspicion, and
anxiety, expressing
the drama of human
experience. For sale
as a series, perhaps
for use in a theater.


; ;

The following series
of ten (six shown)
very large paintings
is based on sumo
wrestler images
that I collected in
Japan. They are
intended to hang,
East Asian-style,
from rods, with fabric
edging. I imagine
them decorating a
sumo wrestling arena
somewhere in Japan.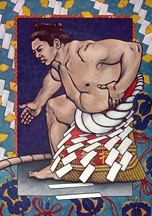 The following series
of paintings is based
on photographs I took
of stone reliefs at
Borobudur and
Prambanan,
Buddhist and Hindu
temples in Java.
They are painted on
very rough paper
that creates a
startlingly realistic
likeness of stone.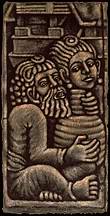 The next pictures are
abstracts derived from
single or multiple
poses. I often did these
figure studies when I
found the musculature
or interior forms of the
figure more interesting
or fun than the overall
pose or expression of
the model.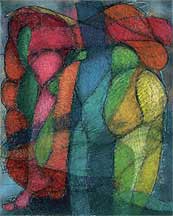 ART EXHIBITS
Who's There?
Collage and mixed
media on artbpard
11 x 14
$300
None of It Seemed Real
Collage and mixed
media on foam core
17 x 39
$1250
Maybe, Maybe Not
Collage and oil pastel
on paper, mounted
15 x 26
$1050
Down by the River
Collage and mixed
media on matboard
30 x 40
$2500
Harlequin
Oil pastel on
painted matboard
21 x 34
$1500
Minoa
Collage and mixed
media on artboard
40 x 32
Not for sale
Redhead in a Red Skirt
Mixed media
on matboard

23 x 39
$1500
Flower Goddess II
Multiple exposure
photograph

prints start at $22
Cirque
Mixed media on paper
19 x 27

$500
Les Demoiselles Centennial
Oil pastel and collage
on matboard
36 x 29
$1800
Garden Party
Colored pencil and
collage on paper, mounted
40 x 48
$2000
Buddha Girl
Mixed media collage
on artboard
30 x 40
$1000
Miss Wonderful
Mixed media on matboard
15 x 12

$500
War o' Wills
Collage and acrylic
paint on matboard
32 x 40
$1200
Combat Fatigue
Mixed media with charcoal
and collage on paper
48 x 36
$2500 framed
The Bath of Venus
Pencil and acrylic
wash on paper
22 x 30
$900
Mourning I
Etching on paper
12 x 16

$150
Mourning II
Etching on paper
12 x 16

$150
A Man Resting
Lithograph
10 x 14
$250 matted
$350 framed
About Face
Acrylic and tempera
paint on heavy paper
46 x 62
$2000 + mount
Amusement
Oil painting
on artboard
20 x 26
$500
Anger
Oil painting
on artboard
20 x 26
$500
Despair
Oil painting
on artboard
20 x 26
$500
Disgust
Oil painting
on artboard
20 x 26
$500
Guile
Oil painting
on artboard
20 x 26
$500
Insecurity
Oil painting
on artboard
20 x 26
$500
Sumo Wrestlers VI
Latex and acrylic
paint on canvas
54 x 72

$3000
Sumo Wrestlers II
Latex and acrylic
paint on canvas
54 x 80

$3000
Sumo Wrestlers V
Latex and acrylic
paint on canvas
54 x 80

$3000
Sumo Wrestlers IV
Latex and acrylic
paint on canvas
82 x 54

$3000
Sumo Wrestlers I
Latex and acrylic
paint on canvas
54 x 80

$3000
Sumo Wrestlers III
Latex and acrylic
paint on canvas
54 x 80

$3000
Sumo Wrestlers
Charcoal on paper
31 x 21

$400
Java Relief I
Latex paint on
textured paper
23 x 42
$1200
Java Relief II
Latex paint on
textured paper
23 x 47
$1200
Java Relief III
Latex paint on
textured paper
23 x 46
$1200
Java Relief IV
Latex paint on
textured paper
39 x 23
$1200
Java Relief V
Latex paint on
textured paper
23 x 46
$1200
Java Relief VI
Latex paint on
textured paper
23 x 46
$1200
Java Relief VII
Latex paint on
textured paper
39 x 23
$1200
Figure Fantasy
Charcoal drawing
on paper
30 x 25
$800
Buried Alive
Ink, acrylic wash, and
charcoal on paper
25 x 30
$800
Figure Abstraction
Oil pastel and spray
paint on matboard
32 x 40
$1200
Ares
Charcoal and acrylic wash
on paper
30 x 25
$700
The Crouch
Charcoal drawing
on paper
19 x 25
$350
Organic Abstraction
Oil pastel on paper
35 x 28

$800 + mount
Arms and Legs
Charcoal drawing
on paper
25 x 30
$700
Male Study
Dry pastel on
newsprint
20 x 27
$250 + mount
Body Building
Dry pastel on paper
18 x 24

$350
Skin Flick
Oil pastel on paper
25 x 30

$750